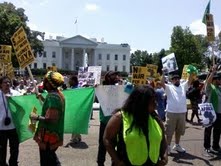 Politics comes first in the United States, and unfortunately misshapes policies. Center driven direction prevents imaginative operations and leads to paralysis. The Neocons and their damage has faded, and given way to a new force, an Unholy Trinity that hopes to reshape America.
DISCLAIMER:: Alternative Insight presents news and views that are alternatives to the conventional media. The news and views don't necessarily represent those of Alternative Insight.
Copyright Notice: Articles, unless otherwise noted, are original and the property of Alternative Insight. Use is encouraged and permitted in accord with fair use guidelines that credit Alternative Insight.
Politics
The Presidential Race
Democrats should focus on the best person to govern the United States and not on the best person to prevent Trump from misgoverning the nation. One citizen's analysis of the Democratic field of presidential hopefuls.
Winning by Losing - The Trump Way
South Korean commendations for President Trump are flattery and "window dressing" to appease the U.S.president defore presented with agreements that he cannot refuse and is willing to accept
.Democratic Socialism or National Socialism?
By running Hillary instead of Bernie the Democratic Party prevented a ideological challenge; did the American public favor Democratic Socialism or National Socialism?
CHAOS - The Coming State of America
Abe Lincoln engineered stability from chaos; Donald Trump might turn stability into chaos.
The Unholy Trinity
An Unholy Trinity intends to control U.S. foreign and domestic policies
Politics of Patriotism (2001)
Patriotism has dangers--stimulate virulent nationalism, prevent fruitful policy debates, and direct a nation into pain and sorrow.
Clinton's Legacy (2001)
One feature of Clinton's administration is the lack of a major unique initiative, such as Truman's "Marshall Plan," Johnson's "War on Poverty," and Reagan's "Reaganomics."
Empowering Terrorism (2003)
American foreign policy is based on false propositions and reinforced a world of violence.
The Dimming Light of the Neocons (2004)
Have the Neowrecks done permanent damage to the United States?

A Tale of Two Reparations
Part I-Reparations Victims of WW II
Part II-Reparations for African-Americans
.
The Immigration Wars (2006)
Political correctness, catering to the Hispanic vote, Right vs. Left have replaced an intelligent and objective analysis of a major problem.